Eggs Benedict is breakfast/brunch classic whose orginis date back over 100 years. Back in 1942, a retired New York stockbroker named Lemuel Benedict gave an interview to The New Yorker magazine in which he claimed he walked into the Waldorf Hotel 48 years earlier in 1894 looking for a cure for his morning hangover and reportedly ordered "buttered toast, poached eggs, crisp bacon and a hooker of hollandaise." The restaurant later added his order to the menu but replaced the bacon and toast for ham and a toasted english muffin. This was how it all started.
Today, the dish is served practically everywhere and there are many varieties and ways one can enjoy eggs Benedict. Below is my all time favorite version of the dish from a restaurant called 'Cremat 11'. In this case we would call this a lox-pancake Benedict. Here, instead of english muffins and Canadian bacon, the restaurant utilizes savory-fluffy pancakes and fresh smoked salmon alongside the butteriest hollandaise sauce ever. Let me tell you did this exceed my expectations. Every bite melts in your mouth and the touch of dill in the hollandaise adds a nice touch. I've got to the say the most important element to any great eggs Benedict are the poached eggs. Every time I ordered this during my week long vacation (went back 3 times) the eggs were cooked to perfection and oozed down to provide moisture to the components below. If you're ever in Spain its an unreal breakfast place with eggs Benedict, pancakes, fresh juice, good coffee … everything you need to start your day right! Better be early or you need to wait a long time to get a table… which is always a very good sign!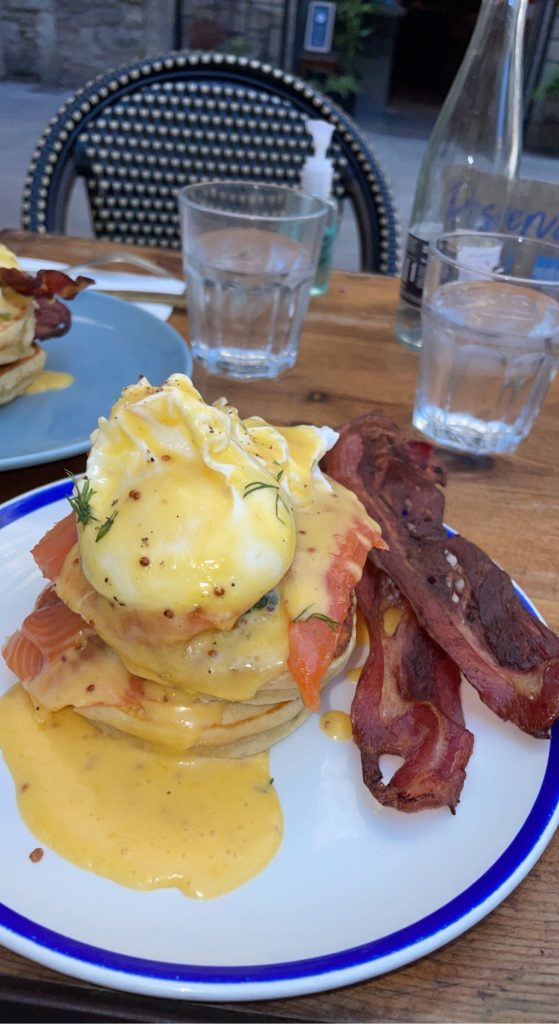 It is clear though that the dish pictured above is most definitely on the heavier side. I think one great thing about a more traditional eggs Benedict is that it is relatively healthy, quick, and light on your stomach. So when I'm not in the mood to get too full or have to an active day ahead of me I go for something more like the Benedict scramble at 'La Malcriada' pictured below. Here we have a classic english muffin topped with tender pieces of bacon, cheesy scrambled eggs and a soft boiled egg on top for extra protein. The Benedict is paired with a side of breakfast potatoes on top of purple mashed potatoes and a side salad.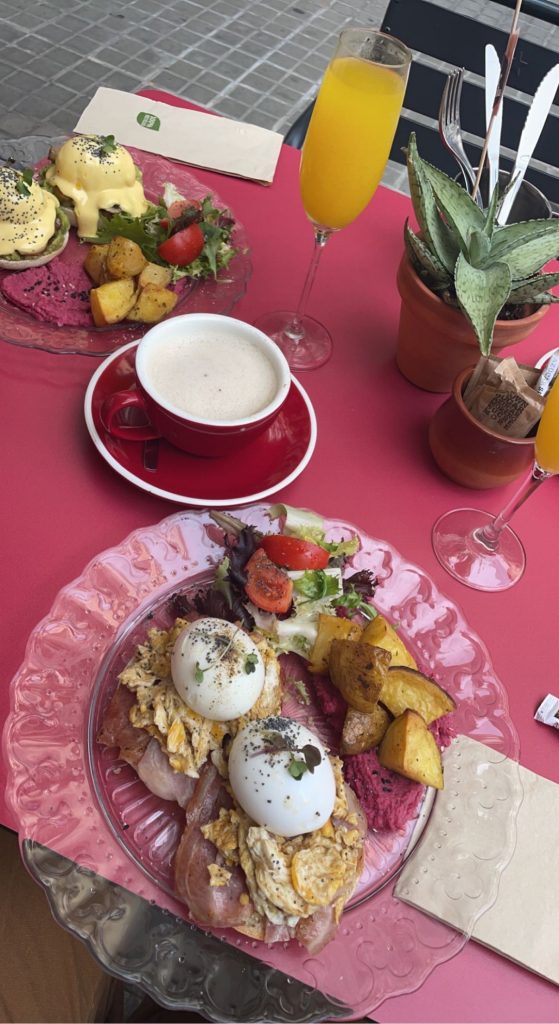 The bacon at this restaurant was perfectly grilled, juicy and very tasty. The plating was beautiful, the interior of the store was also very nice, and the staff were really friendly. The potatoes and salad tasted even better than they look and provided something refreshing the pancake Benedict lacked.