When you think of pizza, what immediately comes to mind? Is it the thin-crust and huge slices of New York City or maybe the controversial deep-dish pizza of Chicago (the cheese is under the sauce) or maybe even the square slices with thick crusts of Detroit? Maybe it's none of these! Either way, what is considered the correct form of pizza (or really, the best form of pizza) is a debate I have heard my entire life. Some people don't even consider Chicago or Detroit styles real pizza for various reasons, but I think they're definitely pizza.
New York-style pizza is made with a characteristically large hand-tossed thin crust, often sold in wide slices to go. The crust is thick and crisp only along its edge, yet soft, thin, and pliable enough beneath its toppings to be folded in half to eat. Traditional toppings are tomato sauce and shredded mozzarella cheese, but lots of toppings can be added.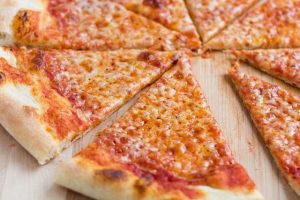 Chicago-style pizza (or simply deep-dish pizza) is prepared according to several different styles developed in Chicago, IL. The pan in which this pizza is baked gives the pizza its characteristically high edge which provides ample space for large amounts of cheese and a chunky tomato sauce. Importantly, the cheese is underneath the sauce, giving Chicago-style a very different look than other pizzas.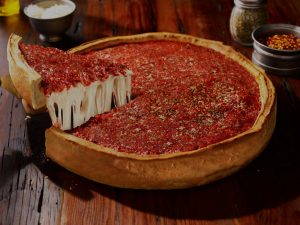 Detroit-style pizza is a rectangular pizza with a thick crust that is crispy and chewy. It is traditionally topped with tomato sauce and Wisconsin brick cheese that goes all the way to the edges, but it can have a variety of other toppings! I've found this is the least known style of pizza but I think it's absolutely worth a try.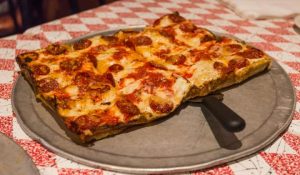 What's your favorite style of pizza? In my opinion, there is a time and place for all forms of pizza and neither is inherently better than another. With that said, I do tend to crave Detroit-style more than the others.