There have never been such a strong and persistent commitment I make with anything but K-dramas – a genre of film produced by South Korea that is well-known to the public as cheesy, cliché, and somehow disguisedly toxic. I admit that those are the reasons I were initially drawn into watching K-dramas, as a naïve girl with so many fantasies about her grown-up life.


Yet, as I watch more K-dramas and start adopting the mindset of a designer and a student of Professor Atay 😉 , I became very analytical with what the film crew presents in my eyes. Contrary to the negative implication of K-dramas to the public, they have grown exponentially in the quality of content, demographics of characters, and delivery of life philosophy. Recent hits of K-dramas on Netflix are prime examples of these growths, to me, this is a #proud-fan-moment.
What stands out to me the most is the clever and almost seamless presentation of traditional food in these dramas. From years of watching the growing visual of Korean food on-screen, I became stunned by the power of Korean screenplay in making food a national mascot of South Korea. Through creatively manipulate the camera works, scripts, and character design, each contemporary Korean drama teaches audience a new lesson of the Korean culinary culture. Allow me to break down this assertion of mine through the 3 most prominent food-incorporated Korean dramas that are my personal favorites (in terms of food marketing).
Weightlifting Fairy Kim Bok Joo (https://asianwiki.com/Weightlifting_Fairy_Kim_Bok-Joo)
GOLGI – BBQ CULTURE:
In short, it is a story of three weightlifting female students at a sport college in which the protagonist is a part of. The crew cleverly use the characters – who are athletes with high protein demand – to introduce a so-called proper way of optimizing a BBQ experience. By culturalizing the etiquette of eating at a Korean BBQ restaurant, the film directors successfully promote both the meat (golgi) and an authentic experience of a Korean dine-out meal that serves as an utterly effective virtual tourist experience. As I hang out with my friends at a Korean grill restaurant, they occasionally mention this drama's influence on their knowledge of this middleclass cuisine.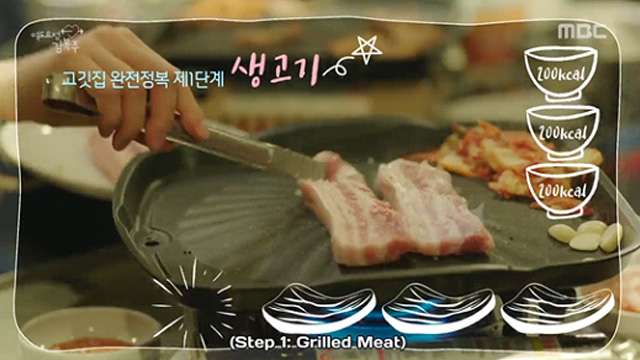 2. It's Okay Not To Be Okay (https://asianwiki.com/It%27s_Okay_to_Not_Be_Okay)
BRAISED QUAIL EGGS – AFFECTIVE BANCHAN CULTURE
Quite different from the previous golgi story, food in IONTBO became an agent of empathy and remedy that magnifies the theme of Post Traumatic Stress/Disorder central to the plot. With a dark history in the relationship with her mom, the female protagonist Ko Mun Yeong is not well-perceived among her people due to bizarre and overtly dramatic responses to issues around her. Yet, as the male protagonist and his brother come into her life with soy-sauce-braised quail eggs, she begins to open up her heart to her surroundings and seems to always find her way back to enjoying this dish when she misses the taste of familial intimacy. As the figure shows, the appearance of food through very daily language as such and the role it plays in the character development of Ko gives the food subject a very humanistic identity.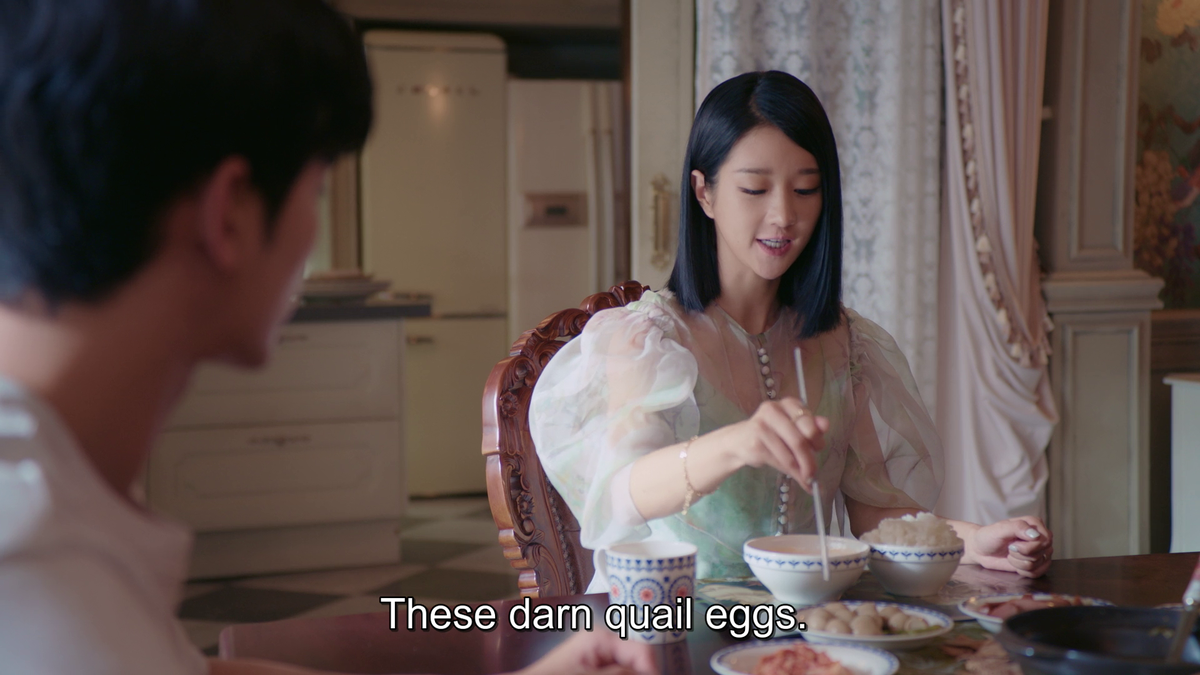 .
3. Because This Is My First Life (https://asianwiki.com/Because_This_Is_My_First_Life)
KIMCHI – BONDING CULTURE
Currently binging on this drama as I am typing out this blog since it is such a realistic and refreshing depiction of relationship and marriage hardship. Anyway, this time, food tells a prominent Korean custom – making Kimchi. The film depicts kimchi-making as a village-wide bonding event and make clear how cooperation, resilience, and labor are equally important for the preparation of harsh winter months in Korean. In the image, the male protagonist comes to the female protagonist's hometown to help prepare kimchi with her family, where he ends up meeting the other village ladies who behave just like any "ahjumas" (aunties) you may find in popular K-dramas. This food workshop behaves effectively as a cultural introduction to winter prepping in rural South Korea and a catalyst for the relationship between the main couple.
On a final note, these on-the-spot cultural analysis I wrote serve nothing more than a ranting blog entry. Yet, I believe this topic is well-deserving of proper research and evaluation for a scholarly understanding of marketing and culturalism. Korean food representation in national films is the reason why I love the Korean cuisine, cherish the experience of eating in general, and most importantly, ponder ways that I could promote my own culture using the same framework.
Other than that, please find sometimes to watch these dramas for yourself if you are looking for some real and delicious life lessons.